Eco-friendly children's rooms: No VOC Lullaby Paints Chalkboard Paint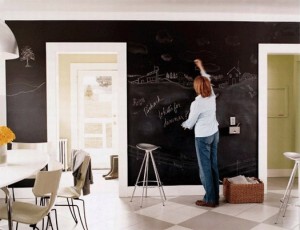 It can be one parental fear to walk into your child's bedroom and find they have drawn on the walls. It can be another parental fear that your child's health will be affected by toxic decorating, especially out gassing from paints. Lullaby Paints has the solution to both of these problems with their colorful line of chalkboard paints. Chalkboards aren't just black anymore!
There's something undeniably fun about chalkboards (c'mon, admit it). They simply beckon for doodles and drawings. Go ahead and get your chalk on with Lullaby Paints hard, super-resilient Chalkboard paint made to the same baby-safe standards as other Lullaby Paints.

Offered in sixteen colors to accent any room, Chalkboard Paints provide a wonderful canvas for children to express their creative instincts. The low-sheen finish is ideal for all kinds of chalks and is fully washable to make masterpiece after masterpiece after masterpiece.

Chalkboard Paints are also available as a kit, including paint (sufficient for a board of thirty square feet with two coats) a roller, tray, chalk and edging tape. And, our safe formula means kids can paint their own chalkboard – perfect for artwork, poetry, or anything their imagination can dream up.
We were sent one of the kits, and I can't wait to find a space in our home for it. What a great way to be able to leave messages for family members, encourage artistic expression, increase print awareness, etc. This chalkboard paint is washable and resilient.
READ MORE: http://ecochildsplay.com/2013/05/21/eco-friendly-childrens-rooms-no-voc-lullaby-paints-chalkboard-paint